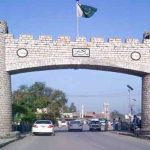 ISLAMABAD: Pakistan Muslim League-Nawaz (PML-N) president Shehbaz Sharif on Thursday called on former prime minister Nawaz Sharif, his daughter Maryam Nawaz and Captain (retired) Safdar at Adiala Jail where they imprisoned.
Shehbaz Sharif was accompanied by his son Suleman Shehbaz.
During the meeting, the PML-N leaders discussed results of the General Elections. They also reviewed future strategy after defeat in elections as masses had rejected their slogan of 'vote ko izzat do' (respect for vote).
Nawaz is currently completing his sentence after he was convicted by accountability court in a case pertaining to Sharif family's Avenfield properties in London.
During the meeting, Nawaz also rejected the results of the General Election 2018, in which Pakistan Tehreek-e-Insaf has taken a lead.
Nawaz reiterated that he firmly adheres to his 'respect for vote' stance, adding that he is standing for the restoration of civil supremacy.