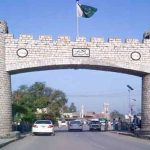 Prime Minister Muhammad Shehbaz Sharif Friday met with US President Joe Biden and his wife at the reception hosted by the US President for the world leaders participating in 77th session of UNGA, the prime minister office said.
The two leaders discussed floods in Pakistan and bilateral relations.
The PM Office tweeted a photo of Shehbaz Sharif with Joe Biden and Jill Biden.
Earlier this week, US President Joe Biden made a passionate appeal for extending help to Pakistan where floods had caused huge devastation
In his address to the UN General Assembly, as he announced over $2.9 billion in new assistance to address global food insecurity.
"Pakistan is still under water, needs help," the president told a packed gathering of world leaders in the iconic hall of the General Assembly.
Prime Minister Shehbaz Sharif will address the UNGA session on Friday (today).
His address will focus on climate-induced floods, devastation, and an appeal for international help.
He is the 12th speaker in the 193-member assembly's high-level debate on its fourth day in which some 140 world leaders are participating. It is the first in-person session of the assembly following the Covid-19 pandemic.
The prime minister has been briefing world leaders and heads of financial bodies on the floods that have inundated one-third of Pakistan, inflicting huge damage to human lives, infrastructure, livestock and crops.
"Pakistan is passing through difficult times and the havoc wreaked by floods, which is obvious before the world, needs serious attention," he said in his video statement on Wednesday.