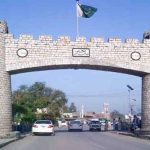 KARACHI: Pakistan Muslim League-Nawaz (PML-N) president Shehbaz Sharif on Tuesday said that arrangements for clean Karachi and water availability at homes will be done within six months and three years respectively.
Shehbaz Sharif said that sit- ins caused loss to the country however, load shedding issue has been resolved by 90% during PML-N government.
He said that in the next turn, their party will address transport issues in Karachi by introducing Metro bus and Orange Line Train, asserting that CPEC project was launched during their stint.
Shehbaz Sharif held a meeting with delegation belonging to different minorities in Karachi. He appreciated the struggles of minorities for the progress of the country and thanked them for their part.
He also said that the constitution of Pakistan gives equal right to every individual regardless of its religion.