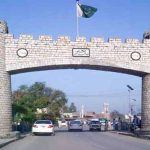 ISLAMABAD: Opposition leader Shehbaz Sharif said Thursday the result of the no-confidence motion against Senate Chairperson Sadiq Sanjrani was damaging to democracy.
Sanjrani, as well as Deputy Chairperson Saleem Mandviwalla, survived no-confidence resolutions tabled against them. The resolution against Senate chair failed to receive the 53 votes required for his removal, with 50 in favour and five rejected.
Speaking informally to media personnel outside the Parliament House here in the federal capital, Shehbaz — also the president of the Pakistan Muslim League-Nawaz (PML-N) — said he believed that there had been influence and horse-trading.
The Opposition members had reduced by 14 but 64 of them had stood up in support of the motion to table the no-confidence resolution, he said, adding that what happened today was a dent to the democracy.
On the other hand, PML-N member and leader of the opposition in the Senate, Raja Zafarul Haq, said what happened today was sad. "We know who did not vote [in favour of the no-confidence motion]," he noted.
Haq added that the Opposition was aware by early Thursday morning as to how many votes the no-confidence motion would receive later in the day.
"Mostly, people from a certain party ruined it. The forces that wished to save the Senate chairperson emerged the victors," he added.