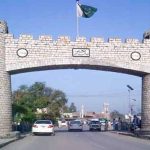 LAHORE: Pakistan Muslim League-Nawaz (PML-N) President Shehbaz Sharif on Saturday appeared before an accountability court in Lahore for the hearing of the Ramzan Sugar Mills reference.
Shehbaz Sharif and his son, Hamza Shahbaz, have been accused of constructing a drain around the Hamza-owned sugar mills using money from the national treasury.
Talking to media on the occasion, Shehbaz Sharif accused the Prime Minister Imran Khan of being behind the Daily Mail report and "planting it". He called the report 'fabricated' and said there is no truth to it.
Shehbaz told the court that he took action against those who embezzled the funds. "I got them arrested and auctioned off their properties. Why has NAB been sleeping for the last eight years?"
The hearing has been adjourned till August 1.