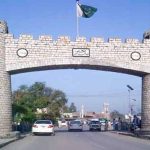 LAHORE: President of Pakistan Muslim League-Nawaz (PML-N), Shehbaz Sharif appeared before the Supreme Court's Lahore registry on Sunday in a case pertaining to corruption in 56 public sector companies.
Earlier in the day, a two-member bench headed by Chief Justice Mian Saqib Nisar resumed hearing of a suo motu case pertaining to the salary structure of government officers and alleged corruption in 56 public-sector companies in Punjab and summoned Shehbaz Sharif in person.
During the proceedings, the Chief Justice asked the PML-N President Shehbaz Sharif to explain as to how government officials were hired on high salaries.
To this, Shehbaz said that it was not the first time such companies had been formed adding that such companies had existed before as well.
He also asked the court to allow him a chance to submit his response in the case.
Chief Justice Nisar questioned Shehbaz Sharif as to what promise to the public had he fulfilled.
Shehbaz Sharif responded that he had saved the [national exchequer] Rs. 160 billion.