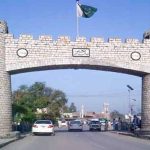 ISLAMABAD: Pakistan Muslim League-Nawaz President Shehbaz Sharif has been banned from travelling abroad in a case pertaining to possessing assets beyond his known sources of income.
Local media reported that Shehbaz Sharif's name has been placed on provisional national identification list, which meant that he would not be able to travel abroad for 30 days.
Media reported that the Ministry of Interior had prepared a summary which would be sent to the federal cabinet for placing the name of the opposition leader in the National Assembly on the Exit Control List (ECL). His name would remain on the provisional identification list until it was placed on the ECL.
Earlier, The National Accountability Bureau (NAB) on Monday had recommended the Interior Ministry to place Shehbaz Sharif's name on the ECL.
The NAB, in a letter to the Interior Ministry, cited that investigations against Shehbaz Sharif, the leader of the opposition in the National Assembly, were under process in the case of assets beyond known sources of income, hence his name should be placed on ECL.
NAB said that investigations also underway against Shehbaz Sharif's sons, Hamza Shehbaz and Salman Shehbaz in the assets beyond means case.