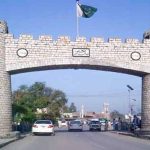 LAHORE: Pakistan Muslim League Nawaz (PML-N) President Shehbaz Sharif is condiering to contest the upcoming general elections from as many as three constituencies of Karachi.
According to media reports, the former Punjab chief minister Shehbaz Sharif has obtained nomination papers for the same after parliamentary board of PML-N endorsed the decision in its meeting underway with ousted prime minister Nawaz Sharif in the chair.
The reports said that Shehbaz Sharif will contest elections from NA-248, NA-249 and NA-250 adding that he will also contest elections from Lahore's NA-132, DG Khan's NA-132 and Swat's NA-3.
The parliamentary board also interviewed Shehbaz Sharif and asked about his performance during the previous government and his future plans.