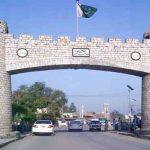 LAHORE: Pakistan Tehreek-e-Insaf (PTI) Chairman Imran Khan while reacting to Pakistan Muslim League-Nawaz (PML-N) President Shehbaz Sharif's address in Mardan has said that the PML-N President is the head of a corrupt flock.
Chief Minister Punjab and PML-N President Shehbaz Sharif in his address to a public rally in Mardan on Saturday afternoon said that Imran Khan has developed the habit of telling lies and staging sit-ins.
Talking to journalists in Lahore on Saturday evening, the PTI Chairman said that PML-N is getting weaker and the disqualification of Khawaja Asif is a proof of this fact.
He added that PML-N will soon fall prey to internal breakdown.
Imran Khan said that the main contest in the coming general elections would be between PTI and PML-N.
Turning to Pak-India negotiations, he said that talks between the two countries are not possible as long as Indian Prime Minister Narendra Modi is there.
Imran Khan said that he had told Modi that the door for bilateral talks should not be closed and added that holding talks with India might be a dream in the presence of Modi's mindset.
Regarding PTI rally in Lahore tomorrow, Imran Khan said that he will announce ten points and will put forward the future course of action in the rally.
PTI is all set to hold a public rally at Minar-e-Pakistan (Pakistan's Minaret) in Lahore on Sunday.