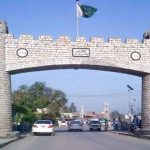 ISLAMABAD: Pakistan Muslim League Nawaz (PML-N) president Shehbaz Sharif on Wednesday issued a show-cause notice to Rana Mashhood for giving controversial statements in a TV interview.
Earlier, while speaking to media outside accountability court, Shehbaz denounced the statements of Mashhood, and dubbed the remarks as "irresponsible," and told the media about issuing a show-cause notice to the party member.
Earlier today, ousted premier Nawaz Sharif had said that Shehbaz Sharif has taken a notice of Rana Mashhood's recent statement.
Afterwards, the former prime minister quoted a famous verse by Ghalib, "'ġhālib' hameñ na chhed ki phir josh-e-ashk se baithe haiñ ham tahayya-e-tūfāñ kiye hue."
Nawaz was quick to clarify that he had not referred this verse in the context of Rana Mashhood's statement, "I was talking about my own state in a general way."
Rana Mashhood made headlines during a TV interview in which he appeared to suggest that a key institution played a role in Pakistan Tehreek-i-Insaf's (PTI) victory in the 2018 elections.
During the interview, Mashhood was asked whether the civil-military tensions that had reportedly marred the tenure of the last PML-N government still existed after the end of the party's rule.
He went on to say that the situation had improved. "I think because 'they' have now realised that those whom they had considered horses, are not able to deliver," he was heard in a video footage as saying.
In another interview later in the day, Mashhood claimed that the PTI government in Punjab would cease to exist within the next two months or so and be replaced by his own party's setup.