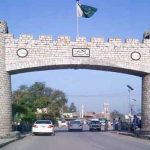 LAHORE: Pakistan Muslim League Nawaz (PML-N) and Jamiat Ulema-e-Islam Fazal (JUI-F) have agreed on Azadi March. Final dates would be announced after recommendations of executive committee.
As per details, Shehbaz Sharif and Maulana Fazalurehman met in Lahore to discuss future of incumbent government. Both leaders decided to meet other opposition leaders in this regard.
Talking to media, JUI-F leader Akram Durrani said Azadi March is for 220 million people of Pakistan. He said final decision in this regard would be taken in a meeting of central committee.
PML-N's Ahsan Iqbal on this occasion said farmers and businessmen are worried and unemployment is rising in the country. He said government has become economic danger for public.
He said Imran Khan should also decide to leave politics like Qadri. He said Shehbaz Sharif met with JUI-F chief on the instructions of Nawaz Sharif. He said the meeting condemned the arrests in fake cases.
He said the recommendations of September 30 meeting of PML-N executive committee would be presented to Nawaz Sharif and final announcement about Azadi March would be made.
He said PML-N demand release of political prisoners.