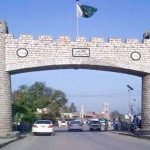 ISLAMABAD: Pakistan Muslim League-Nawaz (PML-N) president and the Leader of the Opposition in the National Assembly Shehbaz Sharif will return back to the country on June 8, his son Salman Shehbaz shared the date on his twitter account on Thursday.
It is pertinent to mention here that Shehbaz's defense counsel, in Ramzan Sugar Mills and Ashiana-i-Iqbal Housing Scheme cases against him, had given June 11 as the deadline to the court for his return.
On May 25, his defense counsel had told the court that his client was out of country for medical reasons. The court was pleaded for a 14-day exemption from his personal appearance and a written application was filed to this effect.
Shahbaz was released on post-arrest bail in the housing scheme case, while Hamza was on pre-arrest bail in the sugar mills case.
All the accused persons had already been indicted in Ramzan Sugar Mills case. Shehbaz, Hamza and his brother Salman Shehbaz had been indicted for building a drainage system, a 10-km nullah for draining of water from the mill, by misusing the authority and misappropriating Rs21 million of public funds for their benefit, for which they pleaded not guilty.