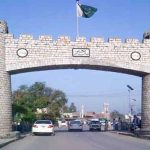 MULTAN: Sheikh Rasheed on Friday suggested the military leadership including top generals to abandon ruling Pakistan Muslim League-Nawaz (PML-N) in important meeting, expressing doubts on the loyalties of government.
Addressing to a gathering in Multan, the Awami Muslim League (AML) leader said unfaithful leaders who speak nothing but lies have imposed themselves on the poor and looting the country with both hands. "These leaders always fooled us after coming to power," he added.
He claimed that as many as 25 Members of National Assembly (MNAs) from PML-N are ready to resign from party membership. The opposition member believes that the ruling party has a large number of disgruntled leaders within who will soon distance themselves from the issues related to Sharif family. His advise to military leadership doesn t come as a surprise keeping in view that he has remained a staunch critic of the PML-N government.
He lashed out at the elected representatives saying they are only focused on making money through corruption and increasing their assets. Sheikh Rasheed said that those who promised food, houses and clothes didn't even give people graveyards.
He spoke on the issues of poverty and high unemployment rate in the country. The lawmaker from Rawalpindi stressed that the elected rulers treat the people like insects.
Sheikh Rasheed announced to hit the roads for sit-ins and protests on December 25. He said that he will call a large number of people to demand their rights and bring out rulers from their mansions.