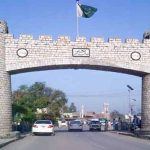 RAWALPINDI: Minister for Railways Sheikh Rasheed Ahmad on Sunday has said that the incumbent government of Pakistan Tehreek-e-Insaf (PTI) will complete its tenure as Prime Minister (PM) Imran Khan and Chief Minister of Punjab (CM) Sardar Usman Buzdar are not going anywhere.
Talking to media in Rawalpindi, the minister hoped that good news will come from Lahore after PM Imran's visit. The angry coalition leaders will soon be reunited with the government to serve for the betterment of the country, he stated.
Sh Rashid told that the government is committed to defeat the corrupt mafia which is biggest impediment to the country's progress.
Talking about the China-Pakistan Economic Corridor (CPEC), the minister said no power can manipulate this mega project and that completion of ML-1 plan is the mission of his life.
For more latest news visit Khyber News website.