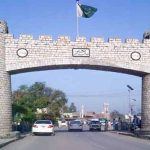 LAHORE: Federal Minister for Railways Sheikh Rashid Ahmed Saturday said ML-1 project is the purpose of his life and he will resign after its completion.
Sheikh Rashid addressed a ceremony at the Mughalpura Dry Port after inaugurating a freight train. He termed the ML-1 project as a revolutionary step and stressed that the government will complete it.
Sheikh Rashid said that railways is going to open five dry ports in one month as the progress of this department is synonymous with Pakistan's development. Trackers will be installed in freight trains, he added.
No other government faced the problems that we have faced in 16 months but we will not allow any conspiracy against the China Pakistan Economic Corridor (CPEC) to succeed, he remarked.
The federal minister admitted that a strong price control committee is required in the country after the flour crisis. While rejecting the Transparency International's report, he said Prime Minister Imran Khan is fully capable to deal with all difficulties.
For more latest news visit Khyber News website.