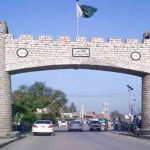 Former federal interior minister Sheikh Rashid Ahmed on Monday contended that the legal action taken to seal his iconic Rawalpindi residence, Lal Haveli, by The Evacuee Trust Property Board (ETPB) was just a ruse and the that the true objective was to arrest him just like leaders of his allied Pakistan Tehree-e-Insaf (PTI) in a bid to silence him.
Ahmed has also challenged the actions of the ETPB before the Lahore High Court's Rawalpindi Bench. He will be represented by Advocate Sardar Raziq Khan.
A hearing on Ahmed's petition has been slated for hearing at 11am.
Ahmed previously told the media that he had not received any notice from the Auqaf department and that he would take the matter to court.
He confirmed that Lal Haveli had been completely sealed and that when the operation was conducted he was not present there.
"Sealing Lal Haveli is an act of fascism and terrorism and the authorities purposely came to arrest me but I was able to evade them," he claimed
Ahmed maintained that he was the true owner of the property, contrary to claims of ETPB which stated that neither Ahmed nor his sister could produce documents which cemented their claim to the property.
"Lal Haveli is my property, and if Lal Haveli is not my personal property, then hang me on the square [chowk]," he declared, adding, "The authorities are trying to divert the public's attention from the real issues."
He went on to say that a case pertaining to the ownership of the Lal Haveli is already fixed for hearing on February 15 and contended that the action to seal the property as illegal until the outcome of the court hearings is clear.