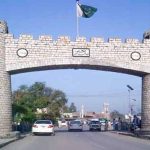 ISLAMABAD: A local court in Islamabad Thursday handed over  Sheikh Rashid Ahmad, Awami Muslim League chief, to police on two days physical remand.
The Islamabad police presented Sheikh Rashid Ahmed in the court after medical check up at hospital. The police had requested for seven days remand of Sheikh Rashid Ahmad. However, the court handed over him to police on two-day physical remand, directing the police present the accused in the court after completion of the remand.
Sheikh Rashid Ahmed, the leader of Awami Muslim League (AML) and an ally of Pakistan Tehreek-e-Insaf (PTI), was arrested by the Islamabad police on Thursday morning. Rashid was charged with making false allegations that Pakistan Peoples Party (PPP) co-chairman and former president Asif Ali Zardari was plotting to assassinate PTI Chairman Imran Khan.
The case was filed against Sheikh Rashid by Rawalpindi Division's PPP President Raja Inayat Ur Rehman at Islamabad's Aabpara Police Station for leveling baseless allegations against the former president. In the FIR, the PPP divisional president stated that the AML chief tried to badmouth a former president and cause a "permanent danger" to the PPP co-chairman and his family.
According to Rashid's nephew, Sheikh Rashid Shafiq, a large police force broke into Rashid's house and used force on the employees.