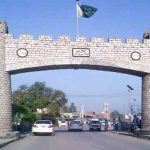 LAHORE: Federal Railway Minister Sheikh Rashid Ahmed has reiterated his commitment to eradicate corruption and cut spending by 15 percent in the cash-strapped railways.
"I will not spare incompetent and lazy railway officers. We have decided to end the losses being incurred by railways this year," Rashid told a press conference in Lahore on Saturday.
He said that 4. 000 acres of railway land was under illegal occupation. "I would want the railway officials to perform their duty diligently and honestly," he said. "I have quit lying for the last eight to nine years," he said
"We have decided to auction 60-year old wagons, put freight trains online and include travel agents in online ticketing," he said.
He said that Railway's 5-year performance report would be made public.
He further said that three freight officers had been suspended. "I have directed officials to provide details of freight trains on a daily basis," he said.
He further said that two new trains would be run from Rawalpindi to Lahore and Kundian to Rawalpindi from September 15.
The minister said that 30 railway stations would be upgraded and a five-star hotel would be built on railway land.
"We are ready to hand over all railway schools and hospitals to the private sector.