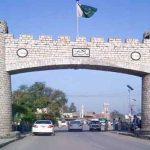 QUETTA: More than 4000 Shia pilgrims stuck at the Taftan border for the last five days have complained shortage of basic facilities at the border camp and demanded of the authorities to provide them security cover to protect their convoy to travel to Quetta and onward to their hometowns.
Talking to Khyber News, pilgrims stuck at the Taftan border told that 75 buses carrying more than 4000 Shia pilgrims including women, children and elderly people are stuck at the Taftan border since October 13. They complained that there is no proper shelter for them, no hygienic condition and no essential facility that is needed for a comfortable stay. They said that two people including a young man and elderly woman had died due to unhygienic condition and shortage of health facilities. They demanded of the authorities to make proper security arrangements for their return to Quetta and onward to their hometowns in different parts of the country.
Shia Muslims go to Iran for pilgrimage of the sacred shrines of the infallible Imam Reza and other Imam Zadegan and it is the only road route that links Pakistan with Iraq and Zaireen also go to pilgrimage of sacred shrines of infallible Imams Ali, Hussain, Moosa Kazim, Mohammad Taqi, Ali Naqi and Hassan Askari (peace be upon them). The road route is adopted by those Shia Zaireen who cannot afford the expenses of air travel due to their financial constraints. However, their stay at the border has raised the cost of this relatively cheaper road route for pilgrims by forcing them to prolong their stay at Taftan. Forced stay means heavy expenses on food, water and everything they utilize even though they don't get potable drinking water there.