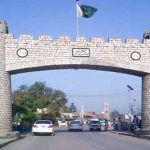 SHIKARPUR: Police have registered a case of Shikarpur Imambargah suicide blast, in which at least three policemen were injured on the first day of Eidul Azha.
The FIR was lodged at Khanpur police station on the complaint of Muhammad Shah Qazi against the suicide bomber, his arrested accomplice Usman and other accused including Umar, Hafeez Birohi and two unidentified persons.
The case has been registered under terrorism act.
Meanwhile, SSP Umar Tufail has suspended SHO Khanpur Bahadur Kerio for inadequate security measures.
Another suicide bomber who was injured in the explosion and was arrested with the help of people, has been identified as Usman. He is resident of Swat and also stayed with family in Karachi's Ittehad Town.
Police and Rangers were carrying out raids in search of Umar and Hafeez Birohi, the accomplices of the terrorists. At least 25 suspects have been arrested from different localities of Khanpur following the attack.