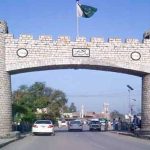 KOHAT: Station House Officer (SHO) Astarzai Police Station Abbas Ali was killed during a shootout with bandits near Kohat on Tuesday.
The encounter with the alleged kidnappers took place near the Bilitang area of the district, officials told the media. One of the kidnappers was also killed in the exchange of fire.
A large contingent of law enforcement personnel have surrounded the area, and the District Police Officer Abbas Majeed has also reached the area.
K-P to make 454 police vehicles bulletproof
Earlier, in Karachi, initial investigation in the incident of a young man's murder in Karachi's Defence Housing Authority (DHA) area late on Saturday has revealed that it might be a case of personal enmity.
According to police officials, due to repeated reports of government vehicles being robbed from the area, an Anti-Car Lifting Cell (ACLC) mobile was found near the site of the incident.
According to reports, finding it suspicious, the ACLC officials tried to stop the car in which the young man was present but he did not stop and tried to escape.
In return, the officials opened fire on the car as a result of which the 22-year-old man died on the spot.