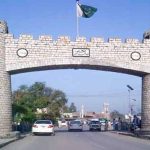 KARACHI: Deputy Commissioner South has served a show-cause notice on Pakistan People's Party (PPP) chairman Bilawal Bhutto Zardari for violating the Election Commission of Pakistan's (ECP) code of conduct during his Lyari visit.
The show-cause notice stated that the PPP chairman had not informed district or police administration ahead of his rally in Lyari on July 1.
The ECP's code of conduct makes it necessary for politicians to inform concerned authorities regarding their rallies three days in advance, the notice added.
Bilawal has been asked to clarify his position by July 5 (Thursday).
Action would be taken as per law upon failure to submit a reply by the given date, the notice warned.