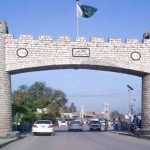 LAHORE: Former Indian test cricketer, Navjot Singh Sidhu met with PTI leader and nominated Punjab Governor, Chaudhry Muhmmad Sarwar in Lahore on Sunday.
They discussed matters of mutual interest, especially ways to boost Pak-India mutual relations.
During the meeting, Najvot Singh Sidhu thanked Pakistani government and nation for the love and hospitality showered on him during his visit, to attend oath-taking ceremony of new Prime Minister, Imran Khan.