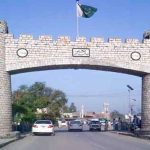 KARACHI: The Apex Committee of Sindh on Thursday agreed to rename 62 sites in Karachi which were named after the Muttahida Qaumi Movement (MQM) founder and his relatives.
The decision to this effect was made during the 22nd Apex Committee meeting chaired by Sindh Chief Minister Syed Murad Ali Shah which was also attended by civil and military leadership.
During the meeting, the chief minister informed the delegates that the cabinet had already taken the decision to rename the identified buildings, public parks, flyovers and roads.
The committee directed the chief secretary to ensure implementation of the decision.
On the other hand, Dr. Farooq Sattar opposed the decision saying that the move would eventually benefit the London-based group.
He added that the group would politicize the issue and grab the sympathies of the people in the city.