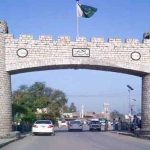 KARACHI: Sindh Apex Committee has decided to continue Karachi operation till complete elimination of militants and peace restoration.
The decision was made in the Apex committee meeting, chaired by Sindh Chief Minister Syed Murad Ali Shah on Thursday. The meeting was attended by corps commander Lieutenant General Naveed Mukhtar, DG Sindh Rangers Lieutenant General Bilal Akbar beside others. Sindh Governor Justice (retired) Saeed-uz-Zaman Siddiqui did not attended the meeting due to health problems.
Advisor to CM on Information, Maula Bux Chandio while talking to media said that the meeting decided to speed up Karachi operation. The meeting also gave clear message that anti-Pakistan elements would not be spared.
DG Rangers Major General Bilal Akbar and IG Sindh A.D Khawaja briefed members of the committee on the progress made with regard to the law and order situation of Karachi ever since the launch of the operation in 2013.
The Chief Secretary of Sindh also briefed the members of the committee on the implementation of the National Action Plan.
Earlier, the Chief Minister also had a farewell meetings with the departing Corps Commander Karachi Lt General Naveed Mukhtar, and Director General Rangers Lt General Bilal Akbar.
Murad Ali Shah presented a Sindh cap, ajrak and musical album to the departing Corps Commander, who has been appointed as the head of the Inter Services Intelligence (ISI). Lt General Naveed Mukhtar also presented gifts to the Chief Minister.
CM Murad thanked the Corps Commander for his services which have helped reduce terrorism in the city, and the coordinated efforts of law enforcement agencies to restore peace in the city. This, he said, will pave way for the development of the city.
The Corps Commander apprised the Chief Minister that they would continue to extend full support for law and order in Karachi. He said that the country would progress is there was peace in Karachi.