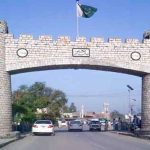 KARACHI: The provincial Apex Committee Wednesday decided to start crackdown against land mafia and street criminals in Karachi.
The apex committee meeting was presided over by Sindh Chief Minister Murad Ali Shah, which attended by Rangers Director General Major General Mohammad Saeed, Inspector General AD Khawaja among other high-level officials.
The chief minister remarked that street crimes must be controlled at all costs.
The DG Rangers said that street crimes could only be controlled once the criminals were given severe sentences.
The chief minister remarked that he has requested the chief justice for a separate court for street crimes.
He also shared that he will speak to the federal government for an amendment in the Anti-Terrorism Act. He said that such cases should be classified.
The provincial police and rangers will also conduct a special operation against street crime, the CM added.
The matter of cybercrime was also discussed. "Cybercrime is an important issue," he said and requested the Rangers to formulate a policy to control it.
Speaking in regards to the safe city project review committee, Murad said that a notification will be issued as soon as he gets the names of the people.
The meeting also decided to start crackdown against land mafia. The meeting was informed that the land mafia was expert in making fake documents .