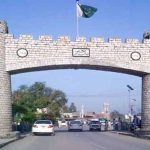 KARACHI: Pakistan Peoples Party's (PPP) candidate Murad Ali Shah has been elected as Chief Minister of Sindh
Sindh Assembly's session resumed under the chair of speaker Agha Siraj Durrani.
Pakistan Peoples Party which emerged as the majority party in the Sindh Assembly once again nominated Syed Murad Ali Shah as Chief Minister.
Earlier on, Murad Ali Shah and his rival candidate Sheharyar Mehar submitted nomination papers. Talking to media after the submission of nomination papers, Murad Ali Shah thanked the party leadership for its trust again in him. He vowed to work for the betterment of the province and will try to get along the opposition.
Talking to media the joint opposition candidate and GDA leader Sheharyar Mehar thanked the joint opposition to choose him as CM candidate and expressed hope that after taking charge of PM Imran will eliminate corruption from the country.Earlier, Pakistan Peoples Party won both Speaker and Deputy Speaker-ship in Sindh Assembly.
Agha Siraj secured 96 votes, while his opponent MQM-Pakistan's Javed Hanif secured 59 votes.
Nadir Magsi administered the oath of Speaker to Agha Siraj Durrani.