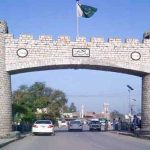 KARACHI: The Sindh Assembly on Friday passed a Rs1,477 billion budget for the year 2021-22 amid the opposition's protest.
It was a rare occurrence in the history of the provincial assembly when neither the opposition moved any cut motion to reduce non-development expenditure, nor the leader of the opposition or the chief minister, who happens to be the leader of the House, spoke during the session.
Terming it a deficit, anti-people and an anti-poor budget, Muttahida Qaumi Movement and Pakistan Tehreek-e-Insaf lawmakers said it had also ignored Karachi and other urban cities in terms of development schemes.
"I held meetings with the opposition to avoid protest and focus on [the] budget. We also gave an opportunity to the opposition members for moving cut motions, but no one seemed interested. Not a single cut motion is received by my office," said Speaker Agha Siraj Durrani while presiding over the session this morning.
"Similarly, I gave the floor to the leader of the opposition to speak on the budget. But he opted for protest. In this situation, we have no other option but to go ahead and pass the budget," Durrani added.
The speaker asked Chief Minister Sindh Murad Ali Shah to present the total grants for the next financial year to pass the budget.