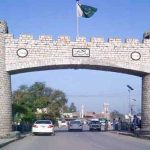 KARACHI: The Sindh government has given go-ahead for a military operation against bandit gangs in Shikarpur's katcha area, quoting a provincial minister Khyber News reported.
Provincial minister Mir Shabbir Bijarani has stated that the military troops and the Rangers personnel will launch an operation against bandits in katcha area along with the Sindh police.
"A large-scale operation will be launched against outlaws in the area adjacent to Shikarpur," the minister further said.
According to sources, controversial tribal chieftain Tegho Khan Teghani has been arrested in Karachi after an attack on police in which two policemen were martyred.
"The police arrested Teghani clan chieftain from his residence in Karachi", according to sources.
It is to be mentioned here that the police killed eight dacoits, while two policemen were also martyred in an operation against gangs of bandits in ​​Shikarpur's Kacha area. The police also recovered six abducted persons from bandits in the operation.