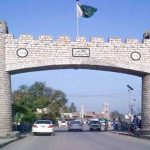 KARACHI: The government of Sindh has imposed ban on collecting hides of sacrificial animals during Eid al-Azha with obtaining permission from concerned commissioner.
According to a notification of home ministry, code of conduct has been devised for collection of hides under which, obtaining permission from the concerned commissioner for collecting hides is must.
The notification added that no welfare or religious organization would be allowed to collect hides without permission.
It further said that action would be taken against those who violated the code of conduct.