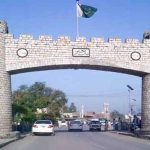 KARACHI: The government of Sindh has extended the policing powers of Rangers in Karachi for another 90 days, said a notification.
According to the notification of the provincial government, the Sindh government has granted an extension of three months to the paramilitary agency for exercising special powers in the metropolis.
The decision to extended the special policing powers of Rangers has been taken under the Anti-Terrorism Act of 1997, with effect from October 8, 2018 until January 5, 2019.
On the request of the Ministry of Interior, the Sindh government accorded the extension in the policing powers of the agency in Karachi.