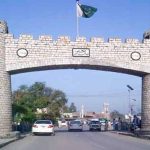 KARACHI: Pakistan Muslim League Nawaz (PML-N) Senator, Nehal Hashmi on Friday said 'last symbol of terror has been removed from Sindh Governor House today'.
"Era of those who didn't accept Pakistan has ended today. These people took over this place 14 years ago during Musharraf's rule," the Senator told reporters outside the Governor House after former chief justice of Pakistan Saeed-uz-Zaman Siddiqui took oath as Sindh Governor, replacing Ishratul Ibad.
"Today the last sign of terror has been removed from this building, and the true symbol of democracy and constitution is present here now" he added.
Information Minister Maryam Aurangzeb said Hashmi's statement doesn't represent the PML-N or government's stance.
It was his personal statement, she clarified.
The PML-N Senator's remarks came few hours after Justice (r) Saeed-uz-Zaman Siddiqui took oath as Governor Sindh.
The oath was administered by Chief Justice Sindh High Court Justice Syed Sajjad Ali Shah.
Sindh Chief Minister Syed Murad Ali Shah, Speaker Sindh Assembly Agha Siraj Durrani, Sindh Ministers, MNAs, MPAs, judges, members of lawyer fraternity and high civil and military officials also attended the oath-taking ceremony.
The decision to appoint Saeed-uz-Zaman as Sindh Governor was taken during a meeting between President Mamnoon Hussain and Prime Minister Nawaz Sharif in Islamabad on Wednesday.
Ex-governor Ishratul Ibad was recently engulfed in a controversy after Pak Sarzameen Party (PSP) leader Syed Mustafa Kamal hurled several accusations at him during a press conference in Karachi.
Kamal called him 'rishwat-ul-Ibad', alleging that he would never miss any chance of taking bribes in cases such as land grabbing.
He claimed that Ibad is responsible for May 12 2007 carnage in which over 45 people were killed in the metropolitan city.
Kamal also accused him of possessing dual-nationality.
Ishratul Ibad has left for Dubai today where he is expected to meet former military ruler Gen (r) Pervez Musharraf.