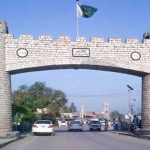 KARACHI: Pakistan Tehreek-e-Insaf (PTI) Chairperson Imran Khan on Sunday said that the biggest issue of Karachi is its local government adding that the Sindh local government system is not empowered to resolve issues being faced by masses.
While addressing a news conference in Karachi Press Club, Imran Khan said that the local government of Sindh not being empowered is the biggest issue of Karachi. "Moreover, people who come in power in Sindh are never interested in Karachi," he added. He said the money of citizens was being sent to Dubai.
Earlier in the day, while speaking to the media after landing in Karachi, Imran criticised Pakistan Peoples Party chairperson Bilawal Bhutto-Zardari, alleging the latter does not know how a hardworking person in the country earn bread and butter.
Imran said Bilawal made tall claims in multiple statements recently but is unaware of the actual issues faced by the people.
About the issues pertaining to the citizens, Imran mentioned those pertaining to water saying that water supplied for irrigation had sewage mixed in it.
The PTI chairperson also said that the chief justice of Pakistan would not have had to give a week's time for Karachi to be cleaned had there any work been done in the city by PPP, the party which has been in power in Sindh for long.
"In the 10 years of their government, what work have you [the PPP government] done for Karachi and interior Sindh," asked Imran.
The PTI chief was referring to Saturday's statement by Chief Justice of Pakistan Mian Saqib Nisar, who expressed anger over the heaps of garbage dotting Karachi.
During a hearing of the Supreme Court's Karachi registry, the CJP said Karachi's cleanliness situation has deteriorated with time. "I don't know how but clean the city. I don't want to see trash on streets of Karachi anymore," he observed.
Heaps of garbage have clogged drains while trash piles are seen everywhere, he remarked, questioning whose job it was to clean the city. He reasoned that it is the job of Karachi Mayor Waseem Akhtar.