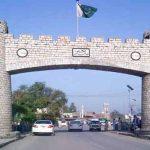 KARACHI: Sindh Inspector General of Police (IG) Ghulam Nabi has formed a five-member committee for investigation into terrorist attack on the office of the Karachi police chief.
A statement issued by the office IG Sindh stated, "a committee with the following composition is hereby constituted to enquire into the incident of attack on Karachi Police Office and supervise the investigations of the case."
Sindh Counter Terrorism Department (CTD) Deputy Inspector General of Police (DIGP) Zulfiqar Ali Larik would head the committee while other members of the body include Karachi South Zone DIGP Irfan Ali Baloch, Crime Investigation Agency DIGP Muhammad Karim Khan, Karachi CTD Operations Senior Superintendent of Police Tariq Nawaz and Karachi CTD Investigation Incharge Raja Umer Khitab.
The chairman of the committee can co-opt any other member required for conducting investigations, read the statement.