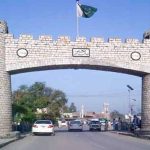 KARACHI: Chief Minister Sindh Murad Ali Shah on Friday declared that the Sindh government will work alongside the Centre to implement the new lockdown measures for the mitigation of the coronavirus outbreak.
"We will implement the federal government's lockdown decisions to the extent of 99% if not 100%," he said.
The chief minister said that businesses will remain closed on Saturdays and Sundays, with the exception of those granted exemptions.
Shah then elaborated on the new lockdown standard operating procedures (SOPs) for businesses. He said that the province will follow to a tee, the timings allowed for businesses to operate — from sehri to 5pm.
The chief minister said that areas classified as dehs (a demarcation of land inhabited by farming communities) will be able to keep shops open as they are less populated.
He also said that small shops located in residential areas will be permitted to operate.
Shah, while acknowledging that small business owners are facing "extreme hardships", requested the federal government to devise a scheme whereby they be provide loans on easy payback terms.
"Let me clarify to traders, restrictions are not being imposed by us (Sindh)," he said.
"It was the federal government's decision to keep large markets closed," he said, adding that keeping shopping malls closed was a unanimous decision taken by all governments.
He said that a committee comprising the Karachi mayor Waseem Akhtar, education minister Saeed Ghani, information minister Nasir Hussain Shah and law adviser Murtaza Wahab will meet with the traders to engage with them on their concerns and reservations which will be forwarded to the Centre.
He went on to say that all industries that were shut down before May will remain closed. Similarly, public venues where large gatherings can occur such as wedding halls and cinemas will also remain shut.
"We have not forbidden weddings, but large gatherings will not be allowed."
He said that keeping in spirit with the Supreme Court directives, which had called for a uniform plan to be implemented countrywide, the Sindh government had agreed to support the Centre in its decisions.
Shah said that there will be a complete ban on political rallies.
Hospital out patient departments (OPDs) will now be open.