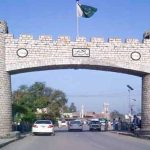 RAWALPINDI: Sir Mark Lyall Grant, National Security Advisor to Prime Minister, United Kingdom called on General Raheel Sharif, Chief of Army Staff, today at GHQ.
According to a handout issued by the Inter-Services Public Relations (ISPR) branch of the Pakistan Army, the two dignitaries discussed matters of mutual interest and regional security.
The visiting dignitary acknowledged the significant achievements made by Pakistan in their fight against terrorism and continued efforts for regional peace and stability, the statement concluded.