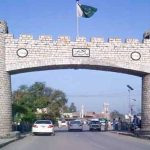 LAHORE: Ameer Jamat-e-Islami (JI) Siraj Ul Haq has demanded a formation of judicial commission over the alleged video of Islamabad Accountability Court Judge Arshad Malik.
Addressing a presser after the conclusion of the JI majlis-e-shura in Lahore,Ameer JI, Siraj Ul Haq said that the shouts of masses who are under the burden of the rising inflation not reaching to a prince living in the prime minister house.
The Government has handcuffed the masses with the chains of the IMF and world bank while his party will stage protest against such injustices with full force.
Siraj Ul Haq said that Chief Justice of Supreme Court (SC) should not be silent over the alleged video of the AC Judge Arshad Malik and unearth the facts in front of masses by forming the judicial commission adding that justice (retd) Abdul Qayoom and Chairman NAB video have also surfaced earlier.
The JI Chief said that PM Imran Khan should play his role to free Afia Siddique in his upcoming visit to the USA and if PM will bring Afia Siddique along with him back home then he will give the PM a warm welcome.