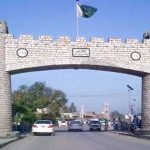 LAHORE: Chief of Jamaat-e-Islami, Sirajul Haq has branded Prime Minister Nawaz Sharif a criminal and demanded him to tender his resignation after verdict of Supreme Court in Panama Leaks case.
Haq talked to the media in Mansoora after chairing a meeting and said declared the premier suspicious. He said that the premier should step down until probe of Joint Investigation Team, as ordered by the top court, concludes.
While talking about grand alliance of the opposition, he said that JI is in contact with different political parties.
The senator demanded action against corrupt elements in the society. The JI chief reiterated to continue his struggle against corruption.
Leaders of Pakistan Muslim League-Quaid-e-Azam, Shujaat Hussain and Pervez Elahi and chiefs of Pakistan Awami Tehreek, Sunni Ittehad Council and Majlis Wahdatul Muslimeen convened a meeting on Sunday in Lahore and announced formation of a grand alliance against the government and alleged corruption of the leaders.
Apex court let out its verdict in Panama Leaks case last week and ordered establishment of a JIT within seven days to probe PM Nawaz s assets and hold him accountable over corruption allegations.
The committee is to file its report to the top court within two months.