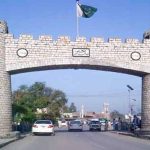 ISLAMABAD: Leader of the opposition in National Assembly Syed Khursheed Shah on Thursday while responding to Ayaz Sadiq's statement, said the NA speaker seemed to be telling the "inside story", and that the situation "seemed suspicious" to him as well.
Talking to media, Khursheed Shah has smelled blood and are advising caution "in these dangerous times." "The way his party is under pressure to hold early elections — it can be seen how the roads are being blocked and fights are being fought everywhere — everyone understands the dangers which Pakistan is going through," Shah said cryptically.
"We should move forward with our eyes open," he warned.
Later, while speaking in the assembly, Shah added that attempts to reduce the Parliament to a rubber stamp for one individual's decisions will be defeated by the opposition.
Sadiq, in an interview on Wednesday, had said that though the continuity of the democratic system was critical in ensuring the strengthening of institutions in the country, he "does not see the [incumbent] assembly completing its tenure".
"What's happening now has never been witnessed before," he said, adding that everyone should prioritise national interests instead of focusing on personal benefits.
The NA speaker, however, rejected any possibility of a martial law being imposed on the country, saying the current situation was "worse than the Musharraf regime, but there is no chance of martial law".