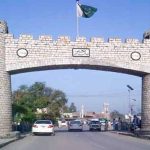 BAGH: At least six people, including three women, lost their lives and 14 others were reportedly injured when a passenger coach plunged into a ditch in Sudhnoti district of Azad Jammu and Kashmir on Tuesday, police said.
"The ill-fated vehicle, with 20 people on board, left the town of Palandari at 9am for Rawalpindi but met the accident just after an hour into the journey when it had travelled a distance of 31 kilometres," said Imdad Hussain, a police official based at Azad Pattan police post.
The driver lost control of the vehicle while manoeuvering a sharp turn on the road and fell into a ditch, he said.
He said that the accident occurred hardly 500 metres before the Azad Pattan Bridge over Jhelum River that connects Poonch division with Rawalpindi district.
"Four persons died on the spot and the rest were injured, of whom two more succumbed to their wounds on a later stage, another police official Mohammad Shahzad said.
The deceased were identified as Nyla, 30; Mohammad Hayat, 55; Shoaib, 35; Rahima Khanum, 50, and her 30-year-old daughter Zuha and Roshan Deen. 60.
Of them, Roshan Deen belonged to tehsil Zafarwal in Punjab while the rest were residents of Sudhnoti district, he said.
Road accidents are common in AJK and are mostly blamed on mechanically unfit vehicles that ply the dangerous hilly roads with impunity. Early last month, in a similar accident, eight people, seven of them women, were killed in AJK's Haveli district.