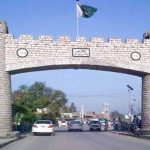 MULTAN: At least six people including four women were killed and 24 others injured as a passenger van caught fire in Multan on Sunday.
The mishap occurred near the Head Muhammad Wala area of the city. The van was on its way to Multan from Sarwar Shaheed Chowk.
Rescue workers rushed to the scene and shifted the bodies and the injured to Nishtar hospital.
The injured, which include 10 women and seven children, have been admitted to a nearby hospital.
The mishap comes a few days after an overturned oil tanker exploded on the outskirts of Bahawalpur, killing more than 140 people and injuring scores more.