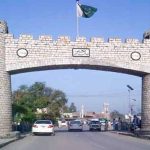 PESHAWAR: Six people including two children have sustained injuries in a firing incident took place in the jurisdiction of Khan Raziq police station here in Peshawar.
According to Khyber News correspondent, the injured persons have been shifted to Lady Reading Hospital (LRH) for medical assistance.
He said while quoting LRH officials that condition of the injured people was out of danger; however, adding that they were still under treatment.
Soon after the incident, police have arrested four suspects.