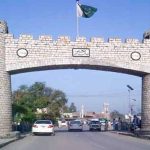 PESHAWAR: At least six people were killed and eight others sustained serious injuries in a remote controlled bomb explosion in Mir Ali Bazar of North Waziristan Agency here on Tuesday evening, political administration said.
According to political administration, the bomb was planted in a motorcycle parked at the road side in Mir Ali busy bazar. The bomb exploded with a bang killing six people on the spot and seriously injuring eight others, the administration added. The injured were shifted to the agency headquarter hospital for medical treatment, administration informed.
Soon after the blast, security forces cordoned off the area and started collecting evidence from the blast site.