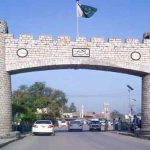 A student of a Russian university in the city of Perm opened fire on his fellow students on Monday which killed 6 students and injured 28 others, authorities said.
The incident occurred at Perm state university Russia on Monday where the gunman walked into the university around 11 am and started shooting after which he entered one of the buildings and started shooting.
Some of the faculty members and students hid in classrooms while others ran for their lives. According to local media footage, the students jumped from first-floor windows on the ground to save their lives and escape the shooting.
The authorities stated that the shooter is a student of Perm state university who posted a message on social media before the shooting. The authorities also confirmed that the shooter was injured before arrest who is now in hospital.
Russia has strict restrictions on civilian firearm ownership, but some categories of guns are available for purchase for hunting, self-defense, or sport. The gun used by the shooter was a rubber bullet shooting gun, which the shooter modified to fire other ammunition.