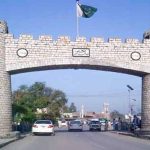 KOHAT: Eight mine workers were killed due to an explosion in a coal mine situation in Kala Khel, bordering area of Dara Adam Khel, sources said.
According to details, eight miners were busy in digging when a gas explosion occurs in the mine. Eight dead bodies have been recovered so far while three workers are reported to be trapped in the mine.
Rescue teams have been reached to the spot and started operation for recovery of the trapped miners.