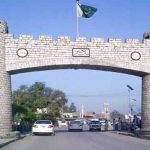 BANNU: At least six people including two women were killed in a roadside accident in the limit of Domel police station in Friday's small hours.
According to Rescue sources, the driver lost control over the fast moving car that plunged off into a deep ravine in Bannu area early this morning.
The Rescue sources said all the casualties belong to a single family. One of the family–a little child, also sustained injuries in the car crash. Bodies of the deceased and the injured have been shifted to nearby DHQ Hospital Bannu.
The sources said the vehicle is wholly destroyed in the crash.
The ill-fated family was en route from Peshawar to Bannu.