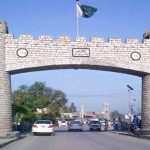 PESHAWAR: Six new cases of polio have been surfaced in Khyber Pakhtunkhwa (KP) and Balochistan, taking the toll to 113 this year.
According to details, four patients have been reportedly attacked by polio virus in KP while in Balochistan, two people got affected by this disease.
Pakistan is among three countries in the world, including Afghanistan and Nigeria, where polio virus still exists and the country remains under a polio-linked travel restriction imposed by the World Health Organization (WHO).
In 2014, the WHO made it mandatory for all people travelling from Pakistan to carry a polio vaccination certificate.