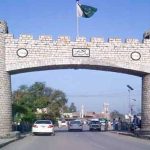 SEHWAN: At least six more devotees were died during Urs celebrations of famous saint Lal Shahbaz Qalandar at Sehwan town of Sindh, bringing the death toll to 14 in two days.
Three-day Urs continued for the second day today amid sizzling heat persistent heatwave across the district.
According to reports, six devotees in the traditional festival lost their lives today due to scorching heat that left eight people dead yesterday.
The 763rd Urs was formally inaugurated by Adviser to the Chief Minister Sindh, Dr. Abdul Qayyum Soomro, who laid floral wreath on the grave and offered fateha.
Thousands of devotees from different parts of the country have gathered in Sehwan to attend the Urs of Lal Shahbaz Qalandar who played a very effective role in spreading Islam's message of peace and love in this part of the sub continent.