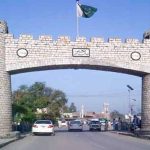 ISLAMABAD: Following the Prime Minister Imran Khan approval to expand the federal cabinet six more ministers have taken oath today (Friday).
This is the fifth time that the cabinet has been expanded in the last two months.
President Dr Arif Alvi administered the oath to the newly-appointed ministers today. Ali Ameen Gandapur, Faisal Vawda, Azam Swati, Mohammad Mian Soomro and Sahibzada Mehboob Sultan have sworn-in as federal ministers while Zartaj Gul took oath as minister of state.
Mohammad Mian Soomro has been given portfolio of Privatisation Commission and Ali Ameen Gandapur got portfolio of Kashmir and Gilgit-Baltistan Affairs. Azam Swati has been given Ministry of Science and Technology and Zartaj Gul became Minister of State for Climate Change.
Currently, the federal cabinet is consisted of 32 members and with the inclusion of six new ministers, the strength of federal cabinet has been reach 38, including 24 federal ministers, six state minister, four advisers to PM and four special assistants.