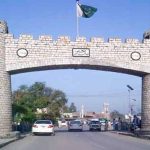 GAZA: An exchange of fire erupted during an Israeli military operation in the Gaza Strip on Sunday, killing six Palestinians and an Israeli soldier, officials said, while potentially dashing hopes that a recent agreement would restore calm.
As tensions rose following the clash, Israeli Prime Minister Benjamin Netanyahu's office said he would cut short his trip to Paris, where he had been attending World War I commemorations, and return home.
Fawzi Barhoum, a spokesman for Hamas, the Islamist movement that runs the blockaded Gaza Strip, denounced a "cowardly Israeli attack".
Palestinian security sources said the clash included Israeli air strikes.
After the clash erupted, "17 launches were identified from the Gaza Strip at Israel", the army said, with three projectiles intercepted by Israeli missile defences.
It was not immediately clear where the others had landed.
Details were still emerging of the incident that Palestinian officials said occurred east of Khan Yunis in the southern Gaza Strip.
Gaza's health ministry said six Palestinians were killed.
The dead included a local commander for Hamas's armed wing, the Ezzedine al-Qassam Brigades, the brigades said in a statement. He was identified as Nour Baraka.
Israel's army confirmed one soldier was killed and another was injured.
"During an (Israeli) special forces operational activity in the Gaza Strip, an exchange of fire evolved," the army said in a statement.
"At this incident, an IDF officer was killed and an additional officer was moderately injured," it added, referring to the Israel Defence Forces and identifying the officer only by his rank, Lt Col, and the first letter of his name — M.
Hamas's armed wing alleged in a statement that an Israeli special forces team infiltrated near Khan Yunis in a civilian car.
Israel's military had not confirmed those details nor described what type of operation it carried out.
A ground operation inside the Gaza Strip would be rare and likely significantly boost tensions.
Israeli Defence Minister Avigdor Lieberman held security consultations at military headquarters late on Sunday and early on Monday morning, his office said.